This question comes up from time to time in various forms, from, "how much money should I save before buying a house" to "how much money do I need to put down?" or "How Much Money Do You Need To Buy A Home In Atlanta, GA?" While there are financial entertainers out there that will give you a different opinion there is a "facts-based" answer to this. One such entertainer, Dave Ramsey, suggests 20% down. He's so popular that even popular websites like credit.com and forbes.com recommend this same amount. If you put 20% you'll be way ahead of the game and that's outstanding, however, with a median price of $330,000 in Atlanta, GA, that's $66,000 cash that most don't have.
So, How Much Money Do You Need To Buy A Home In Atlanta, GA?
Fortunately for you, the answer is far less than 20%. If you're looking for what is required to buy a home for the average American, it's about 4% of the purchase price. On a $330,000 median price point home, that's roughly $11,550. This amount includes a 3.5% down payment as well as money for incidentals, appraisals, and inspections while using an FHA mortgage.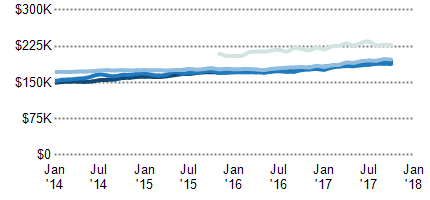 Keep in mind we're talking about Atlanta real estate here which includes areas like Buckhead. So there's more affordable homes all over the city as well as the suburbs. Take Loganville real estate for example, with a median price point of $194,000, you have a better example that matches the infographic below.
...