What You Need To Know Before Moving To Monroe GA
Posted by Stan Jones on Tuesday, March 13, 2018 at 9:12 AM
By Stan Jones / March 13, 2018
Comment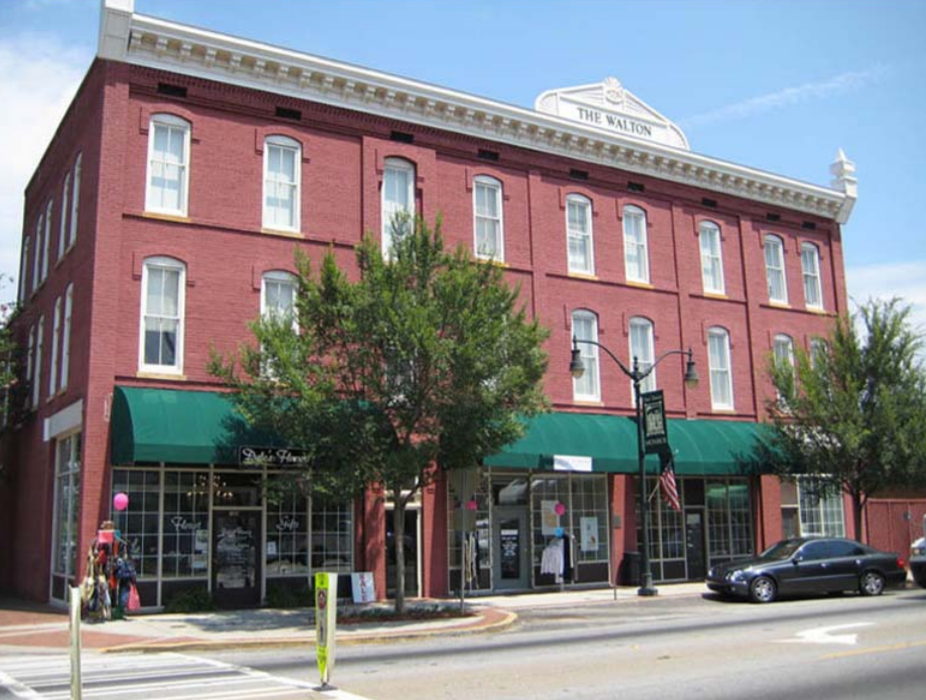 Moving your family from one city to another can be a great way to change things up and get a fresh perspective on life. You may be tempted to start organizing all of your things and packing up boxes right away, but you should first do a little research. Knowing which area that you plan to move to and the potential benefits for your family is a critical part of making a successful relocation. For example, would a move to Monroe, Georgia be in your best interest?
Your life will be completely changed by a potential move, including your children's schools, the recreational activities nearby, and possibly even your finances. It's only wise to take the time to thoroughly research these changes so you can anticipate the potential outcome.
Take a short break from your weekend frenzy of cleaning out closets and preparing for your upcoming move to find out what you can really expect from a move to Monroe, Georgia.
About Monroe Schools
Remember: In rural communities where there is a wide diversity of affluence as well as relatively small sample size, it's increasingly difficult to score well on online portal information.
One of the first things that parents consider before making a major move is the quality of the local public-school district. Every child is entitled to a free and appropriate public-school education, so it makes sense to consider what each area has to offer in advance. Your child's basic education could be the gateway directly to their future.
Georgia doesn't exactly rank as one of the best states in the nation for education. It comes in solidly in the middle of the pack, so it's imperative that parents find a school district that has good ratings to make the most of what they do offer.
What can a move to Monroe, Georgia mean for your child's education?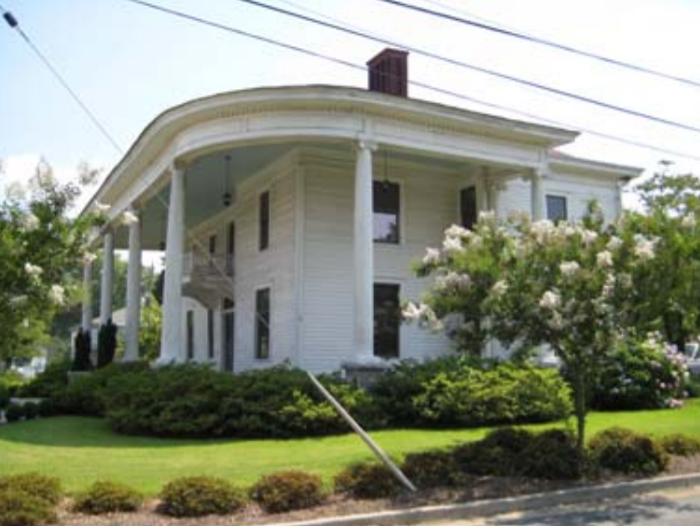 On GreatSchools, all of the schools in the area rate between a three and a six. While an average school would tend to receive a rating between four and seven, anything lower than this represents a school that could be floundering.
Schools with the lowest rating in the area will probably be avoided by most parents. These include two elementary schools, Harmony Elementary School and Monroe Elementary School, that serve prekindergarten through fifth grade. Both of these campuses scored low when it comes to state test scores, student progress toward improvement each year, and equity between their lower-income students and their peers.
The two schools with the top ratings were Atha Road Elementary School (6) and Walker Park Elementary School (5). The two upper-level schools, Carver Middle School and Monroe Area High School, both received ratings of four.
All four of these campuses scored higher on state test scores and student progress. However, the main category where all schools fell short was in equity. Students from lower-income households tended to be further behind their more advantaged peers. This creates a large gap in student achievement that could be responsible for some of the lower test scores.
Overall, these ratings may not be a huge concern for parents who are considering moving to Monroe, Georgia. The primary worry seems to be more for students who are at a lower socioeconomic level instead of poor quality academics. This may be something to consider for families who do have a low-income household.
Otherwise, it seems that these schools are approximately in line with the state averages when it comes to reading and math test scores. They should adequately prepare students for the future and set them up for success in the college years.
Parks and Recreation In Monroe GA
Compared to many of the areas in the state, Monroe is home to a wide array of public parks. Their citizens are privy to a host of recreational activities and leisure pursuits that you can get involved in. This is often one of the top concerns for potential residents who are considering moving into a particular area.
The good news is that a move to Monroe, Georgia isn't likely to disappoint in this regard.
You have the opportunity to sign your kids up for a wide variety of youth athletic programs through the county. They have an extensive list of available sports, including:
Baseball or softball
Basketball
Cheerleading
Football
Track and field
Adapted Sports Program
Adults aren't left out of the fun and games either. You could sign yourself up for an adult recreational league to help you make some connections in your new community. They are currently offering basketball and baseball for adults at the Felker community Center and Meridian Community located in the nearby town of Loganville. Senior fitness programs are also available, if applicable to you.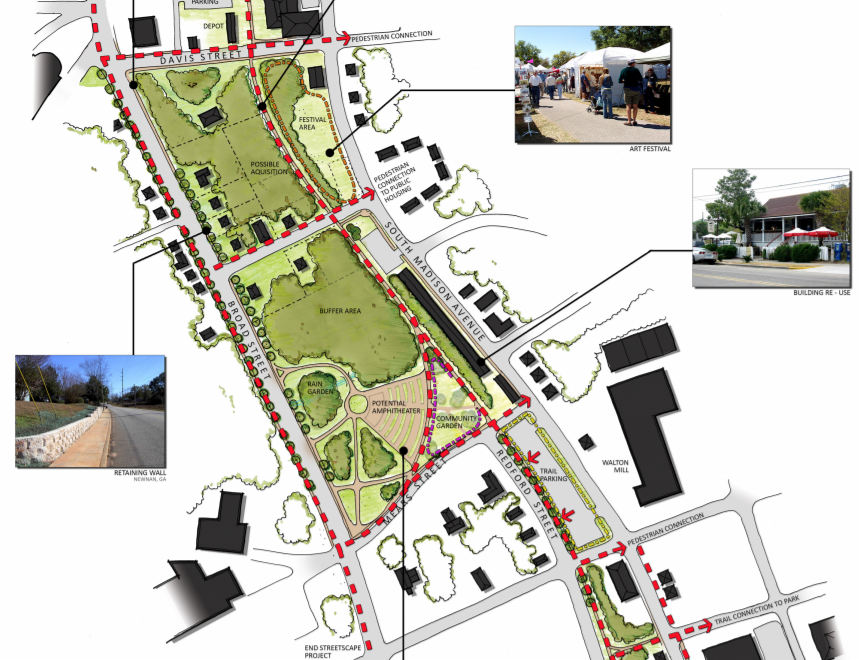 People move into the Monroe area for a variety of reasons, and the extensive parks system is definitely a contributing factor. You won't have to struggle to come up with low-cost or even free things to do with your family on the weekends. Allow your kids to burn off a little energy and enjoy the sunshine in these scenic park settings. Meanwhile, they can also easily connect with kids their own age through the recreation sports leagues available in the county.
These are great ways for your family to make the transition into life in Monroe, GA with greater ease. After all, your new friendships will be an important part of helping to build a life here and helping you to feel truly at home.
About the Monroe Real Estate Market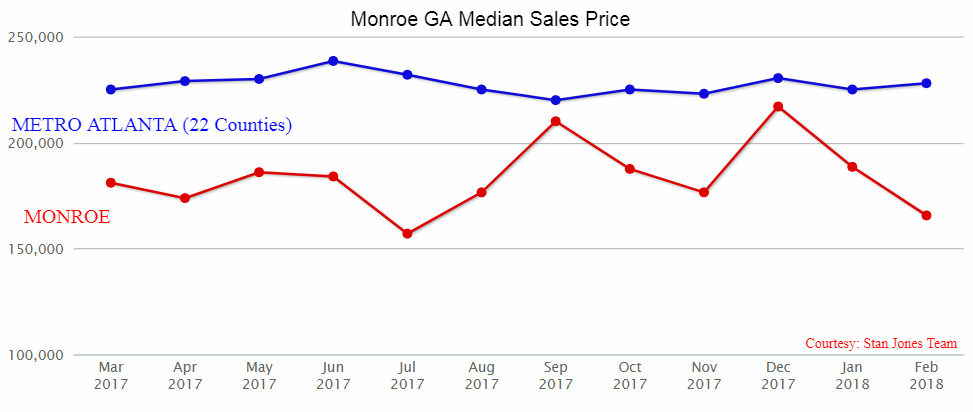 A home is one of the largest assets that you will ever own in your lifetime. It holds the most financial value and the most sentimental meaning among many of the common household purchases. Whenever you plan to move to a new area, purchasing a new home can be an emotional task that leaves you feeling distraught and worried.
You can ease some of the tension by considering the financial burden associated with buying a new home in advance.
If you move to Monroe, Georgia, what can you expect a new house to cost?
You might want to plan on moving into this area much sooner rather than later. Over the past year, they have seen an extremely turbulent real estate market with major price increases in the home values. Over the course of the past year, home values rose more than thirteen percent. Real estate experts are predicting that the trend is far from over, resulting in a 5.6 percent increase spread out over this year. Homes for sale in Monroe go fast despite the rural nature of the market.
Renting is also an affordable solution to your housing dilemma if you move to Monroe, Georgia. The median rent price comes in at $1,175 per month.
Much like in the area of Loganville, Georgia, Monroe is a relatively safe city to live in. There are infrequent crimes, particularly when compared to the more western city of Atlanta. Crime rates are significantly higher in the major metropolis of Atlanta. Moving to Monroe, GA allows you to have access to the attractions available in this major city without fear of the near-constant crime.
Many people who move into this area stay for a long period of time. To date, the current median move-in year is 2003, which demonstrates that most homeowners have lived in Monroe for fifteen years or more.
If you have been thinking about making a move to Monroe, GA, the housing prices indicate that this may be the ideal time to do so. Your family could definitely benefit from buying a home now before the prices continue to rise.
Cost of Living Comparison In Monroe GA
Most people strive to find a place of residence that is relatively affordable. In bigger cities, your monthly budget doesn't tend to stretch as far as it can in smaller towns. Everything from housing to health care tends to be more expensive in areas that have a higher cost of living. If you prefer to stay well within your financial means, moving to an area with a lower cost of living is the perfect way to reduce your monthly expenses.
Before you move to Monroe, GA, you should be aware of how their cost of living compares to other parts of the country. How far will your dollar be able to go on the common household expenses each month?
One of the best places to find information and ratings of the cost of living is through Sperling's Best Places. They consider the national average cost of living to equal an even 100, and other cities then get compared to this benchmark. A score lower than 100 means that an area has a lower cost of living, and the opposite is also true.
The cost of living in Monroe, GA is ranked at 84.9. This clearly demonstrates that the area boasts extreme affordability for its residents, particularly when it comes to the housing costs.
They indicate that the average rental cost for any size apartment is much lower than the state and the national average. However, your utilities and miscellaneous costs like entertainment also rank lower than the national average. Top categories such as groceries, healthcare, and transportation are relatively close to average amounts in other parts of the country.
Have you been searching for a place to live where you can stand on better financial footing? A move to Monroe, GA could give you the opportunity to create more balance in your life financially. If you are attempting to live below your means, this could an excellent move based on their overall cost of living.
Ready To Move To Monroe GA ?
What can you really expect from a possible move to Monroe, Georgia? Parents will have to weigh the overall quality of the public-school system. While it doesn't tend to be a terrible school district, you will want to be careful about where you move to ensure you are zoned for one of the better-rated schools.
On the other hand, the area does offer some very advantageous parks systems, as well as a lower cost of living. This area could be ideal for a family that is highly motivated to spend more time together in the great outdoors and to spend less money doing so. You will have to consider what your priorities are before you make a commitment to move to the area.
Take some time to evaluate whether this city could be right for you and your family today. A move to Monroe, GA may just be the very thing your family needs in the upcoming year.
Check Out Monroe Neighborhoods