ATTN REAL ESTATE AGENTS
Posted by Stan Jones on Wednesday, November 28, 2018 at 10:43 AM
By Stan Jones / November 28, 2018
Comment
Words of Wisdom from Preston Murphy..... please read.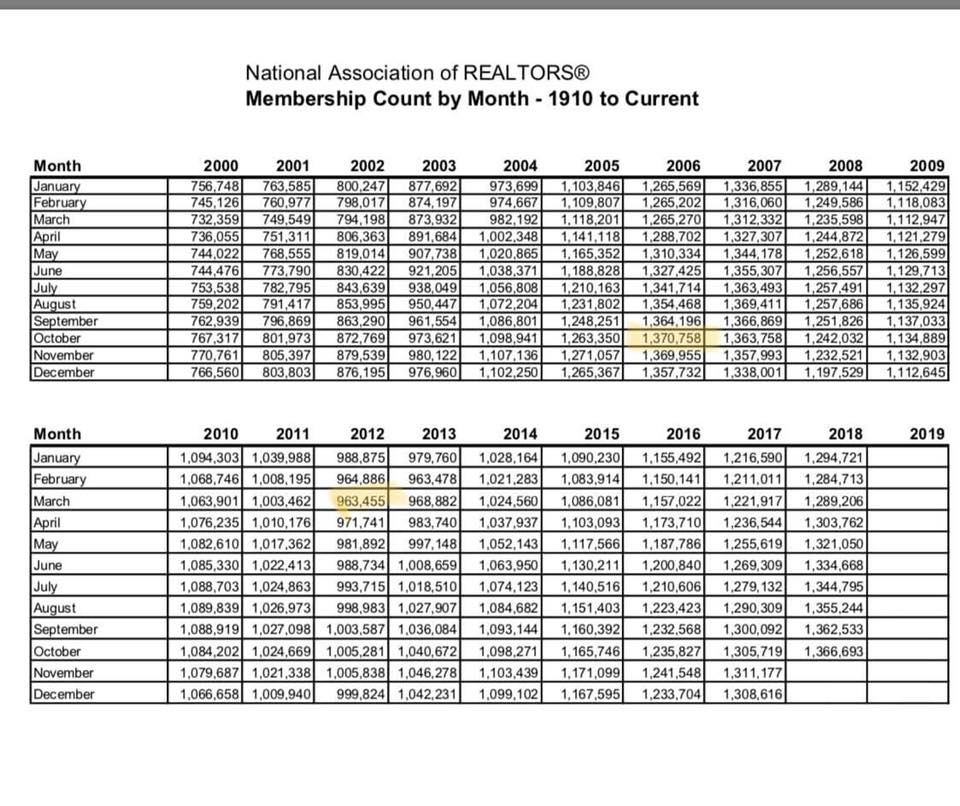 Winter is coming ???? [for the real estate market].

...by the way, it lasts for YEARS, typically. Longer than many of you have been practicing.

As you see from the photo, from October 2006 to March 2012 our industry LOST almost 30% of the agent population.

?? Are you prepared?
?? Will your business survive the impending shift?

In light of '4 million reasons', most Realtors are currently relying on two things to prop up his/her business in our current market:
Want a better solution? TEXT RECAREER to 474747 and jump start a new path to a real career in Real Estate.

1?? the most robust market we've seen in a decade (not actually skill-based results). You happen-upon someone who wants to buy, sell, or invest in real estate because it's the "thing to do" & you think your business is growing. It's not. Don't get caught in that trap.

...and, btw, we're actually on track to close fewer deals this year in the USA versus last year (in case you were thinking things are still on the way up nationally)

2?? many of you are also relying on your brokerage's marketing department (which advertises THEIR brand, not YOUR business, specifically) to help you stay relevant in the marketplace. YOUR value proposition is the only thing that will ensure YOU stay relevant when the market shifts. Remember, when the market shifts you'll mostly be competing against MEGA AGENTS (because many people will exit the industry) who truly know their value, have MASSIVE SKILLS, know the scripts to handle objections, have a proven and LONG track-record of success, tons of reviews and testimonials, and the "it" factor. If your brand's marketing department is going to go with you on every listing appointment, then great. Otherwise, it's probably time you start practicing your value proposition because that marketing department isn't going to do you much good.

...another btw, marketing (unlike prospecting) is considered to be a 'passive' approach to securing business and does NOT typically yield the same return on investment. Realtors who operate like true business-people have a Profit and Loss Statement and they're determined to know their 'numbers' inside and out. When they spend their money or time, they understand the return they'll likely receive.

Many of you are now accustomed to working harder, NOT smarter. You've convinced yourselves that #nodaysoff is the way to live. Unfortunately, when the market shifts, you're going to have a rude awakening if you're already accustomed to this thing you call a lifestyle. You will, in fact, be working harder in a shifting market. It's natural. If you're already working as hard as you can (in this market) because you lack systems, models, and leverage, I'm not sure what you'll do. Ask me about that later.

...so

In a shifting marketing, you need ONE ???THING to obtain the Gross Commission Income you're hoping to achieve. This is actually the only thing you need in any market, but particularly in a shift.
TEXT RECAREER to 474747 and jump start a new path to a real career in Real Estate.

?? A database.

The problems that most agents have are:

1. You don't know how many people you must have in your database to yield the GCI results you're looking for.
2. You don't have a database.
3. You don't communicate with your database effectively.

If you're thinking that's too simple. It's not. It's simple; it's just not easy.

Question ????‍?? Do you realize that Mega Agents understand that closing deals is really just a math formula related to their database? Ask me about that, too.

Actually, do you understand these concepts?

The conversion rate for Mets.
The conversion rate for Haven't Mets.
Capturing.
Connecting.
Cultivating.
Your system for effectively communicating.
# of touches for Mets, Haven't Mets.
Campaigns.
Mimicking. Mirroring. Matching.
Scripts.
Handling their objections.
Types of closes.

?? As a Realtor, my job is to ask my buyers and sellers the tough, probing questions. I hope my posts inspire you to ask yourself the tough questions about your real estate business, too.

I've failed a lot. Fortunately, I've failed forward (through a previous shift) I know real estate & I can help you understand how to have long-term success, too.

Reach out. It's never too late to be open-minded and improve.

Make it a powerful and productive day.
Want a better solution? TEXT RECAREER to 474747 and jump start a new path to a real career in Real Estate.